For archival purposes. Any email address @ wcp2002.no is not functioning. Archive provided by Ingvald Skaug.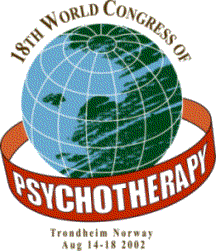 18th World Congress of Psychotherapy
Crossroads of Clinical Practice and Research
Trondheim, Norway, 14-18 Aug. 2002
Clinical Workshops

W-1: Leigh McCullough, PhD
Short-term anxiety regulating therapy
W-2: Adrian Wells, PhD
Cognitive behaviour therapy with anxiety disorders
W-3: Pål Zeiner, MD
Statistical methods in clinical therapeutic practice
W-4: Bjørg Røed Hansen, PhD
Time limited child psychotherapy
W-17 Gail Steketee, PhD: Treatment o fobsessive-compulsive disorder

W-5: Jeffrey Binder, PhD
Time limited dynamic psychotherapy
W-6: David Barlow, PhD
Cognitive behaviour therapy with anxiety disorders
W-7: Inger Helene Vandvik, MD, PhD
Psychotherapy in a pediatric ward
W-8. Thomas H Ollendick, PhD
Cognitive-behavioural treatment of phobic and anxiety disorders in children and adolescents

W-9: K Roy MacKenzie, MD
Time-limited group psychotherapy
Restricted number of participants, registration on a first-come,first-serve basis
W-10: Hans Nordahl, PhD
Cognitive behaviour therapy with personality disorders
W-11: Representatives from Child and Adolescent psychiatry in Norway
Psychotherapeutic interventions for children of psychiatric patients
W-12: Per Einar Binder, PhD, Helge Holgersen
The practice of psychoanalytic child psychotherapy - current state

W-13. Kathleen Clougherty, MSW, Aviva Mayers, MSW
Interpersonal psychotherapy (IPT)for depression
W-14: Kim T Mueser, PhD
Intergrated treatment of Severe Mental Illness and Substance Misuse
W-15: Odd Arne Tjersland, PhD, Wenke Gulbrandsen, PhD
Giving sound to silent voices in cases of sexual abuse
W-16: Albert F Painter, PhD
Conceptual tools for psychotherapy supervision
Fee NOK 300 per workshop
For Clinical Workshops registration, fill out registration form for clinical workshops (PDF, also in MS Word format), 2nd Announcement.
Check out information about registering for WCP 2002.

You are here: wcp 2002 -> clinical workshops
[ 2nd announcement | 3rd announcement | address | background | clinical workshops | keynotes | glossary | main page | major symposia topics | organizing committees | practical information | program features | program outline | registration information | Trondheim ]
Do you have any questions or comments?
Please use info@wcp2002.no to inquire about the Congress. Regarding the web site please use wcp at skaug dot no
Last updated December 23 2001, Sunday