For archival purposes. Any email address @ wcp2002.no is not functioning. Archive provided by Ingvald Skaug.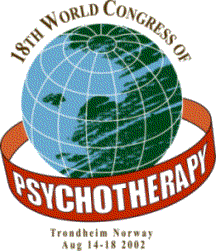 18th World Congress of Psychotherapy
Crossroads of Clinical Practice and Research
Trondheim, Norway, 14-18 Aug. 2002
practical information

location
Trondheim was founded by King Olav Tryggvason in 997 AD. Norway's first capital city is located by one of the largest fjords of Norway with the salmon river Nidelven running through its centre. Today the city has close to 150,000 inhabitants and its total area is 342 square km. The city is an administration, business, and technology centre in a rich agricultural area surrounding the Trondheim fjord. It is a university city and has Norway's most advanced research community in science and technology.
weather
Normally the weather is pleasant in Trondheim in August. The temperature may vary from 10°to 25°C. Rainy days may occur.
language
The conference language is English.
personal invitation
If a personal invitation to the conference is required, please contact the Congress Secretariat.
visas
If applicable, we advise you to apply for visas immediately. No visa is required for US, Canadian and most European citizens. In the summer season the visa office in Norway is extremely busy and delays can be expected. The Secretariat is not in a position to speed up the application process.
travel
There are frequent domestic flights between Trondheim and the international airports in Oslo, Bergen and Stavanger. Flying time between Oslo and Trondheim is 45 minutes. There is also a direct flight between Copenhagen and Trondheim running twice a day.
Travelling by train within Norway gives an excellent opportunity for sight-seeing, and Norwegian trains are of a high standard. The train journey over the mountains from Oslo to Trondheim takes approximately 7 hours.
An interesting alternative is to travel by coastal steamer express from Bergen to Trondheim, a journey of approximately 30 hours along the rugged Norwegian coastline. Your travel agent, or any SAS travel agency, can supply you with full details concerning travel to Trondheim.
accommodation
Reservations have been made at hotels in four various price categories, see Registration Form. Most of the hotels are situated in, or near to the city centre. The number of rooms within each category is limited. For reservati-ons, please fill in the necessary infor-mation on the registration form. Rooms will be allocated on a first-come, first-served basis. We therefore strongly recommend you to register as soon as possible. Reservations have been made for the congress period. If you would like to extend your reservation we will do our best to help you.
Such reservations will be confirmed on an availability basis, as well as reser-vations received after the registration deadline.
Reservations must be guaranteed by credit card. In case of no show etc without prior notice to the Secretariat, you will be charged for one night. Further information will be enclosed with your letter of confirmation
social program
The social program (for participants, and accompanying persons) include Opening Ceremony, two concerts (Wednesday evening and Saturday night), and the Closing Ceremony. The Congress Banquet will be held at the Palmehaven Restaurant Britannia Hotel on Thursday evening (NOK 800). There are also available sightseeing tours in Trondheim, and pre- and post-congress tours (see below)
sightseeing
There are sightseeing tours available for participants and accompanying persons:
City Tour, Thu 15 Aug 1300-1430 (from Royal Garden Hotel), NOK 45.
Ringve Music Museum Tour, Fri 16 Aug 1300-1500, NOK 115 (guided tour in the Ringve Music Museum where the guides play on the museal instruments)
tours
It is possible to arrange other tours as well, through our Travel Agent "Flyspesialistene", email address: cecilie.wettlaufer@flyspesialisten.no.
Stiklestad, the place where Holy King Olav died in 1030 (about one hour drive).
White Nights, tour to the Land of Midnight Sun, Northern Norway
Coastal Express, tour with a coastal steamer, going from Bergen to Trondheim (2 days), and further to Kirkenes (4 days).
Bergen Tour, to the Western part of Norway, 60 min flight.
Oslo Tour, to the Capital of Norway, 50 min flight
children
Child care and activities will be availa-ble at the Congress
workshops
Detailed Workshop program will be available (simplest through our home page www.wcp2002.no) from February 2002

You are here: wcp 2002 -> practical information
[ 2nd announcement | 3rd announcement | address | background | clinical workshops | keynotes | glossary | main page | major symposia topics | organizing committees | practical information | program features | program outline | registration information | Trondheim ]
Do you have any questions or comments?
Please use info@wcp2002.no to inquire about the Congress. Regarding the web site please use wcp at skaug dot no
Last updated December 23 2001, Sunday